Crystal Polski
Crystal Polski applied for the Teach With Africa GTI Educator Exchange fellowship because she wanted to expand her professional network to include teachers from South Africa.
She was eager to learn with and from them about how they are working to meet their students' needs and support them to create student-centered learning experiences that are rigorous, relevant, and engaging.
At the GTI Axis Summit, which hosted 291 teachers from all over South Africa and is designed as a community of practice, where all voices are valued, encouraged to participate, and where every attendee can make a meaningful contribution. 
Crystal had the opportunity to facilitate a Community of Practice workshop, where she presented on Creating Questions for Change. She had about 100 teachers in attendance who were keen to learn new strategies on engaging with students and increasing student voices in the classroom.
During her time in South Africa, Crystal was placed at LEAP Science and Maths School in Diepsloot, where she was paired with a teacher to work collaboratively. "I have been paired with Mr. Dube, a history teacher, at LEAP 4, who teaches the Grade 8 class. We have already taught some classes together and I am going to be leading one lesson on my own soon. I have taught on the scramble of Africa many times before back in the US, but it took on a different meaning with me being on the continent and discussing colonialism. The students posed different ideas about the differences between physical and psychological colonization." she said.
In partnership with Teach With Africa, the GTI Educator Exchange program aims to facilitate an authentic platform for fellows and their South African hosts to learn from one another, improve their instructional practices, and shift the international engagement paradigm from one of giving and taking to co-creation and sharing. In addition to professional experience and expertise, GTI seeks to recruit Fellows who are excited by the potential of the program to be a truly transformative experience, personally and professionally.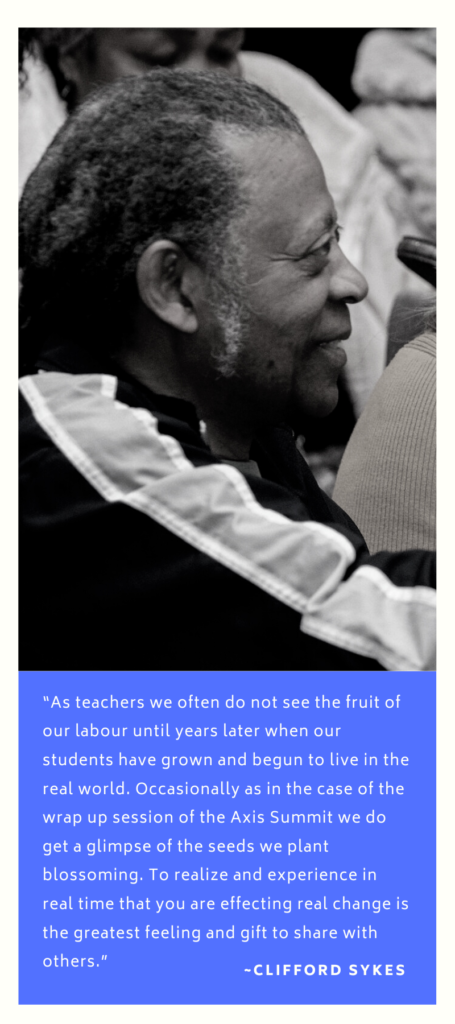 Clifford Sykes
Email: briteeyze@gmail.com
Teaching Grade: 7 -12
Teaching subjects: English and Music
City: Michigan, US
Clifford Sykes is an educator from Flint, Michigan, who has shown commitment to strengthening established relationships with South African teachers by ensuring that he visits South Africa annually to co-share, cocreate and co-learn collaboratively, through the Teach With Africa – GTI Educator Exchange Programme.  Clifford returned for the 4th time this year and was placed at LEAP Science and Maths School in Diepsloot.
We had the opportunity to have a Q&A session with him, where he reflected on his fourth time in South Africa.
Q&A:
1. Describe your overall experience?
TWA/GTI for me represents the ultimate international teacher exchange program. This is not an existential, theoretical, concept but real down to earth, person to person, hard work exploring ways, means and solutions to solving the problems of education for those most in need. I can say unequivocally that my overall experience has been one of learning more about myself and my abilities developed over many years of teaching, as well as inspiring and motivating teachers and learners here in South Africa to " dig deeper, reach higher, and go farther." This feeling and experience of still learning and growing is abundant and infectious with this Fellowship.
2. What did you learn about yourself through this trip?
This trip made me painfully aware of how utterly culturally deprived I am coming from the USA. Growing up in the US, everyone around me speaks only English. The children growing up in Diepsloot are surrounded by children from many other cultures speaking many other languages, Sepedi, Zulu, Venda, isiXhosa, and others. As a way of life, these children speak several languages, which widens their world considerably.
3. How did this trip shift your perspective on global issues? In your home country? On education around the world?
This trip enlightened me to the fact that although we are different social systems and cultures, thousands of miles apart, we do share many similar and, in many cases, the same exact issues to confront and solve. Traffic, environmental issues including water, waste management, and political infighting and corruption. Educationally we share many identical issues, large numbers of poor uneducated, unemployed youth, not enough schools, poorly supplied schools and overworked underpaid teachers.
4. What do you see as the greatest value of the program?
The greatest value of the program for me is the very existence of the program itself. TWA/GTI has afforded me the opportunity not only to travel to South Africa but to share my many years of academic and personal experience and to learn from my counterparts and colleagues internationally. In the past, I have recruited one of my colleagues who was accepted as a fellow in the program (Kimberly Harper 2017) I will increase my efforts in recruiting highly qualified and experienced educators for the program.
5. What are you taking back to the US Classroom and what seed have you planted in the SA classroom?
The written evaluations, I received from doing presentations at the Axis Summit to the staff at Diepsloot, and at ADET, strongly state that I have indeed encouraged and inspired many administrators, teachers, future leaders, and learners to review, reinterpret, reconsider and (where
necessary) revise, their philosophy and approach to those in their charge and in their classrooms. The lively discussions that follow, agreeing, disagreeing, pro and con, accepting and challenging also inspires me to take that same spirit and energy back to my classroom and practice what I teach. There is much growth and inspiration here.
6. Would you recommend this program for participation to other US educators?
Without doubt!